Why is this article about transferring money to GCash from a foreign or US bank account via Wise on a website about condo sales, ownership, and rentals in Angeles City? Because at some point you will need to transfer money around for bill paying and other incidentals. By using this method you will simplify your life in the Philippines dramatically. This method saves me a lot of time every month, and I highly personally recommend it for anyone wanting to send funds from foreign banks to GCash in the Philippines.
Load GCash from Anywhere in the World
There are many reasons to use GCash. And many more reasons one would want to be able to transfer money into it from bank accounts in other countries. That's where Wise will come in very handy. Wise will allow you to load GCash from anywhere in the world.
With a GCash account, you can easily send money to anyone in the Philippines who also has a GCash account (GCash accounts are very easy to get). You or your recipient can pay for services, food, and just about anything else with the money you have loaded — either directly at stores, through transfers to pay bills, or by using a GCash credit card that you can easily obtain. You can buy cellphone load easily on all providers with GCash and even get money back. GCash is a great service to have and use in the Philippines.
Load GCash from the USA
How can I load a GCash account from the US? There are many reasons why people would need to be able to load GCash from a US bank account. It's a great way to send remittance money to family members, or to support a loved one in the Philippines from your bank in the United States. Sending money to a GCash account can be a lot cheaper and easier than using other services such as Wells Fargo, or Paypal. And this method is easy as well. Once the money has arrived in the GCash account the recipient can immediately use it to pay bills, make store purchases, buy load for themselves or others, or even send money to other GCash accounts. The simple method I will explain below will outline how it's done. Once set up, money can be sent to any GCash account or to most Philippines bank accounts using only a few clicks any time, and as many times as you want to send money. I've been doing this for a long time and it saves me so much time and money.
How Can I Transfer Money to the Philippines?
There are a few good ways to transfer money to the Philippines. You could use a service like Western Union or PayPal to move money from one person to another, but those options can be either expensive or impractical in some cases. Another way we've found to transfer money to the Philippines is to transfer it from a bank account outside of the Philippines to a bank account inside the Philippines — often called a wire transfer or electronic funds transfer. Again the fees can be on high, and not everyone in the Philippines has a bank account. The best way we've come across so far to send money to the Philippines is to use an international transfer service called Wise, and have them deliver the funds to either a Philippine bank account or directly to someone's GCash account. It's easy to get a GCash account and many people have one already. This is not only safe, but it's quick and easy as well.
What's the Cheapest and Quickest Way to Send Money to the Philippines?
The cheapest and quickest way to send money to a person in the Philippines, as stated above, is to use the well-known money transfer service called WISE to send money directly from your bank account to a anyone's GCash account in the Philippines. Once set up the entire transfer process can take as little as a few clicks each time on your cellphone, and an hour or so in transit to the GCash account (depending on the time of day and other factors). Fees are some of the cheapest in the industry.
If you or your recipient already has a GCash account in the Philippines it's very simple to do the transfer. Just set up a WISE account here and get your first transfer free. Future transfer are very cheap as well.
If you or your recipient does not have a GCash account follow the step below to set up a GCash account and a WISE account, and you'll soon be able to transfer funds to it at will.
Transfer Money using GCash
This set-up has saved me so much time and money every month, that I thought I should create this page so I could share its benefits with other expats and people looking to transfer money to GCash quickly and easily. The fees for most services on GCash are nothing or very low, and sometimes there are even bonuses and credits for using the service. The savings in time and running around will be enormous.
This set-up will allow you to easily move money from your account anywhere in the world from virtually any currency, to your peso or dollar account in the Philippines or even to your Smart or Globe smart phone in the Philippines. Once the funds are in your phone you can pay most all your bills, easily transfer money to friends and family, buy load, and even make purchases at Pure Gold and other stores in the PI, and so much more.
You can also load your GCash account at 7-11s, Pure Gold, and other partners around the Philippines.
Once set up, your smartphone becomes a virtual wallet. You may buy and sell and transfer money effortlessly. You can even get a GCash Mastercard at any Globe Store, which you can then use like a debit card.
Set up a GCash account on your phone:
Create your GCash account here.

Then just follow the simple instructions to get GCash and to install the app on your phone.
You will have the option to use the Basic features or to become fully verified and use all available features. I recommend becoming fully verified so you can run up to P100K per month through your account and you can use all the other available features.
Setting Up and Using WISE
Next, after setting up GCash, you will want to set up a WISE account.
Set up WISE here and get your first transfer free:
Once you have set up Wise you can then transfer money from your home currency to a local account in the Philippines or to your GCash account for future use.
The WISE Interface
Once you start a transfer on WISE you will see the activity happening in real-time online. Plus you will be kept up to date via E-mail. It will look something like this: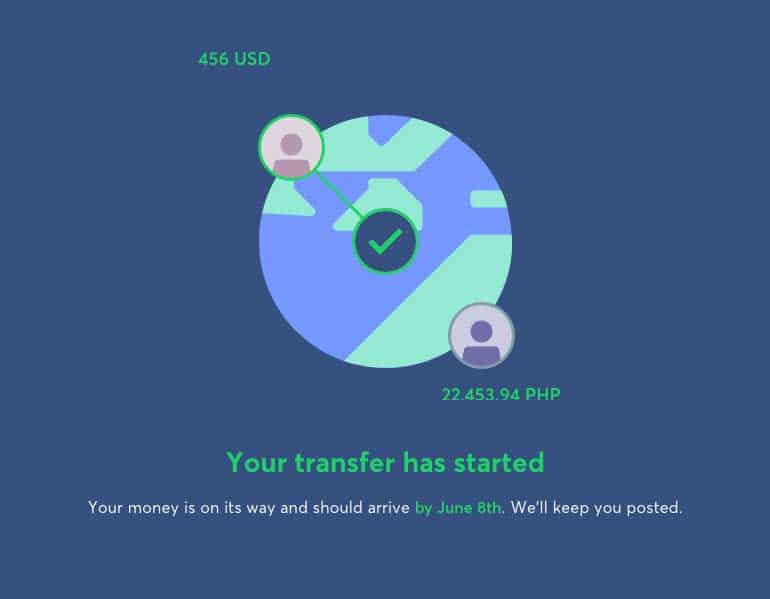 The transfer can take a little as a few minutes, or as much as a few hours depending on several factors between your bank, Wise, and GCash. Check back periodically for progress, or check your E-mail. You will be notified as each step of the transfer occurs. The transfer is usually surprisingly fast.
Transfer Money to the Philippines Using Wise
If you're looking for the best, quickest and most cost effective way to transfer money from the USA or anywhere in the world we highly recommend that you transfer money to the Philippines using Wise (formerly TransferWise). You can easily transfer money from bank to bank, or as outlined above, you can even transfer money from your overseas bank account directly into a GCash account. Either way you decide to do it, you're going to be happy you found out about this service. Use this link to get your first transfer for free.